Life After Dental School
Monday, May 14, 2018 - 12:44pm by Dental Power
Dental care market outlook, student debt, and where dentistry is headed; we'll examine some of the trends and challenges facing new dental professionals today.
This weekend, all over the U.S., as thousands of graduates walked across that coveted stage to receive their diplomas – many with their proud Moms watching (happy Mother's Day!) – it symbolized the culmination of years of hard work and dedication. But what awaits these bright young minds, eager to change the world? Let's take a look…
Current state of affairs at a glance
Well, for starters, their timing is spot on. According to the Bureau of Labor Statistics (BLS), now is the best time to land a new job. For the first time in nearly two decades, the number of job openings has exceeded the number of hires – by the largest margin ever since the BLS first began tracking these statistics. In its "Employment Situation" report released earlier this month, the BLS shows that the number of job openings hit an all-time high of 6.6 million. Relatedly, the unemployment rate fell to 3.9 percent, the lowest level since 2000. At the same time, more workers are quitting their jobs, pointing to a strong sense of optimism and confidence in employment prospects.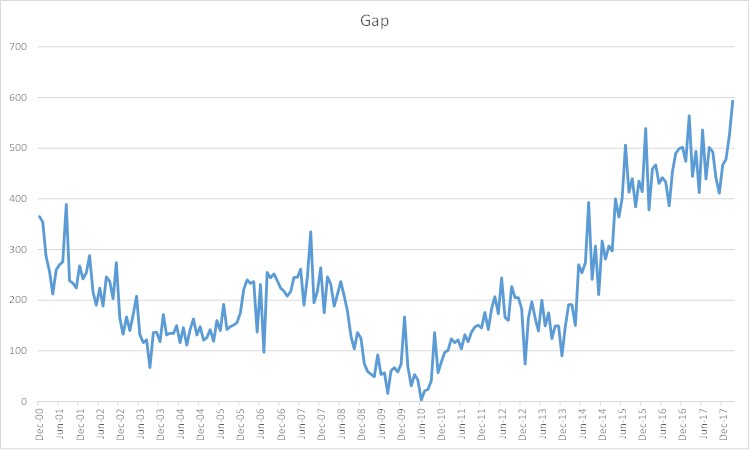 More specifically, the healthcare industry has seen 24,000 jobs added in April alone, and 305,000 jobs over the year. The industry's employment gap (openings minus hires) continues its climb to the highest level in recent memory – at 593,000, as of December 2017.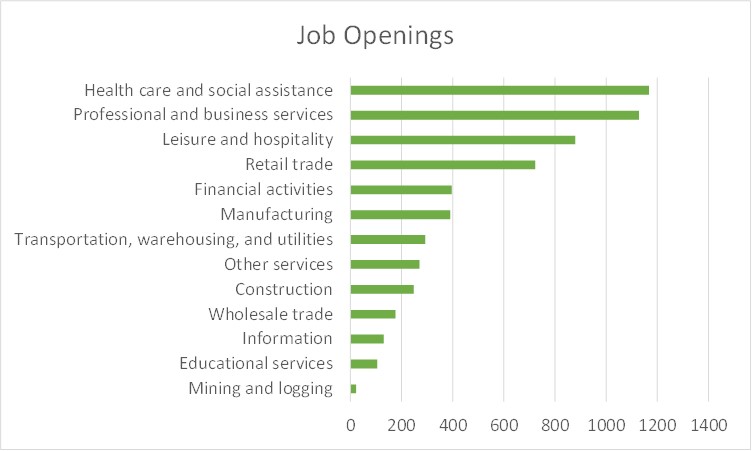 In fact, healthcare currently leads all U.S. industry sectors in the number of job openings.
So all the data seem to suggest that for new graduates, especially those in healthcare – like the roughly 6,000 dental school graduates – finding a high-paying position should be a walk in the park, right? Well, it's not all champagne and cap-tosses as we take a more comprehensive look into the dentistry profession.
Let's begin by discussing the one pesky topic that no graduate – dental school graduates least of all – want to even think about during this time of celebration: student debt. According to a 2017 survey by the American Dental Education Association (ADEA), the average student debt of a dental school graduate was $287,331 (yikes!). This is just the latest data point of a consistent upward trend in average student debt for dental school graduates, which has seen the number more than triple in the last 20 years.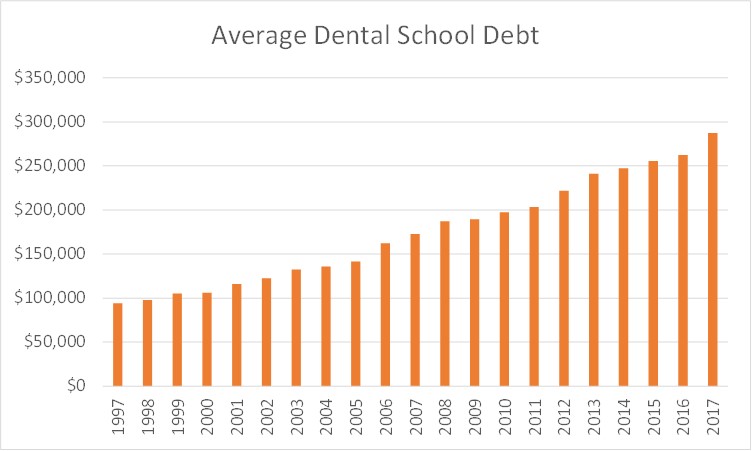 Among other factors, this increase in student debt is directly correlated with the rising cost of dental education. Between the years 2000 and 2017, the average tuition and fees for U.S. dental schools have gone from $25,900 to $65,809 for nonresident students, and from $16,790 to $48,796 for resident students.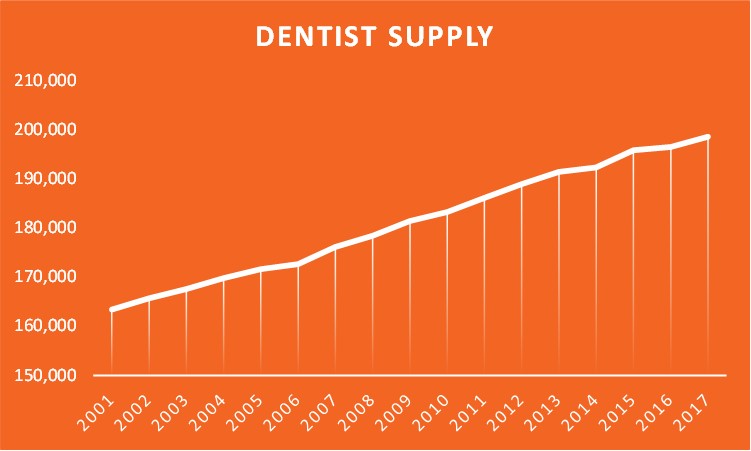 Aside from financial considerations, recent and future dental school graduates are likely to face stiffer competition from their peers as well. In the same ADEA survey, it's revealed that the number of dental school graduates has seen a nearly 43% rise since 2000, which is in line with the overall growth of the national supply of dentists during about the same timeframe.
Have we rained enough on your graduation parades yet? Fear not! Here's some good news.
Dentistry: a look into the future
According to studies by the American Dental Association's Health Policy Institute, the number of practicing dentists per capita in the U.S. will continue to grow steadily through 2035; and this shift couldn't have arrived at a better time. With the advancement of medical technology and ever-improving patient care, each generation is living longer, healthier lives, and more likely to keep their teeth than past generations. And as members of the baby-boomer generation age, they will require increasingly complicated dental care. But dental care utilization is seeing an increase not only amongst the senior population; on the other end of the age spectrum, the country's children are also using dental care at a historically high rate – in 2015, 48.5% of children visited a dentist in the past 12 months.
Speaking of baby-boomers, what about those that work in the dental field? Though it may come as a surprise to some, the dentist workforce has aged as well. The average age of dentists has increased over the last decade, a trend that is likely to continue in the years to come, as evident when we compare the percentage of dentists in each age group in the years 2001 and 2017.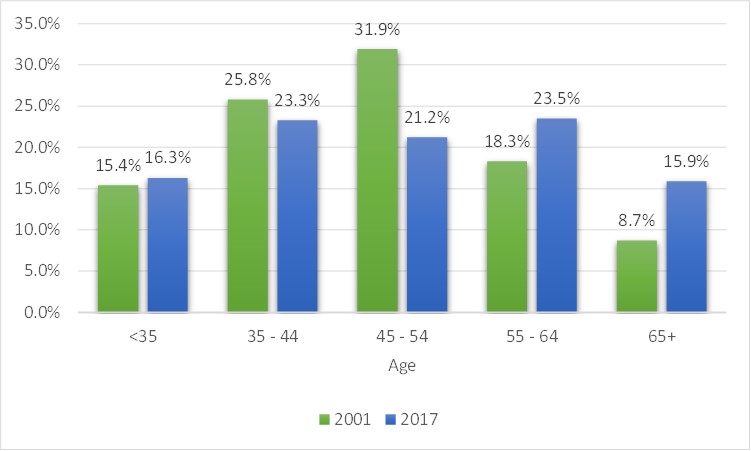 What does that mean for the new graduate? Well, given that close to 2 out of every 5 dentists practicing today are expected to retire within the next decade, more and more qualified dental care providers will be needed to fill those shoes.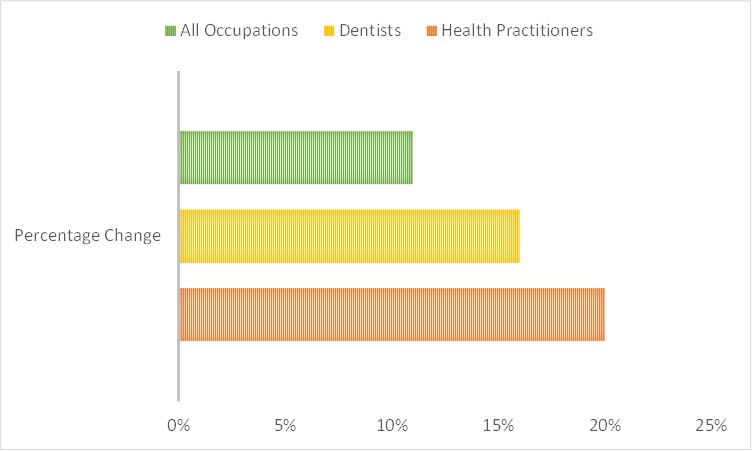 So much so that the BLS is projecting dentistry to be one of the fastest growing industries in the country, with an expected growth rate of 16% between 2012 and 2022.
"Very informative data, but how do YOU fit into all this?"
Good question, we're glad you asked! With more than 40 years of experience, Dental Power is the nation's most respected and trusted placement service dedicated to the dental field. We work with an extensive mix of clients, from private practices of all sizes to community health centers and government entities, who seek dental talent for a variety of positions. Whatever your reasons were for choosing dentistry as a profession, we understand that it represents significant sacrifices and a huge investment on your part. Now, leave it to us to help you get your returns and land you that dream job – whether it's with a productive private practice or an underserved public clinic.
Congratulations, from all of us here at Dental Power. You've worked hard to get where you are today; so go ahead, celebrate! And when you're ready to get to work, we'll be here to help. Whatever path you may choose, we wish you all the best; may your future be as bright as the smiles you will create.